Share this URL: http://pop2013.peatix.com
Event is FINISHED
POP2013 Countdown Party @ Shangri-la Hotel, Tokyo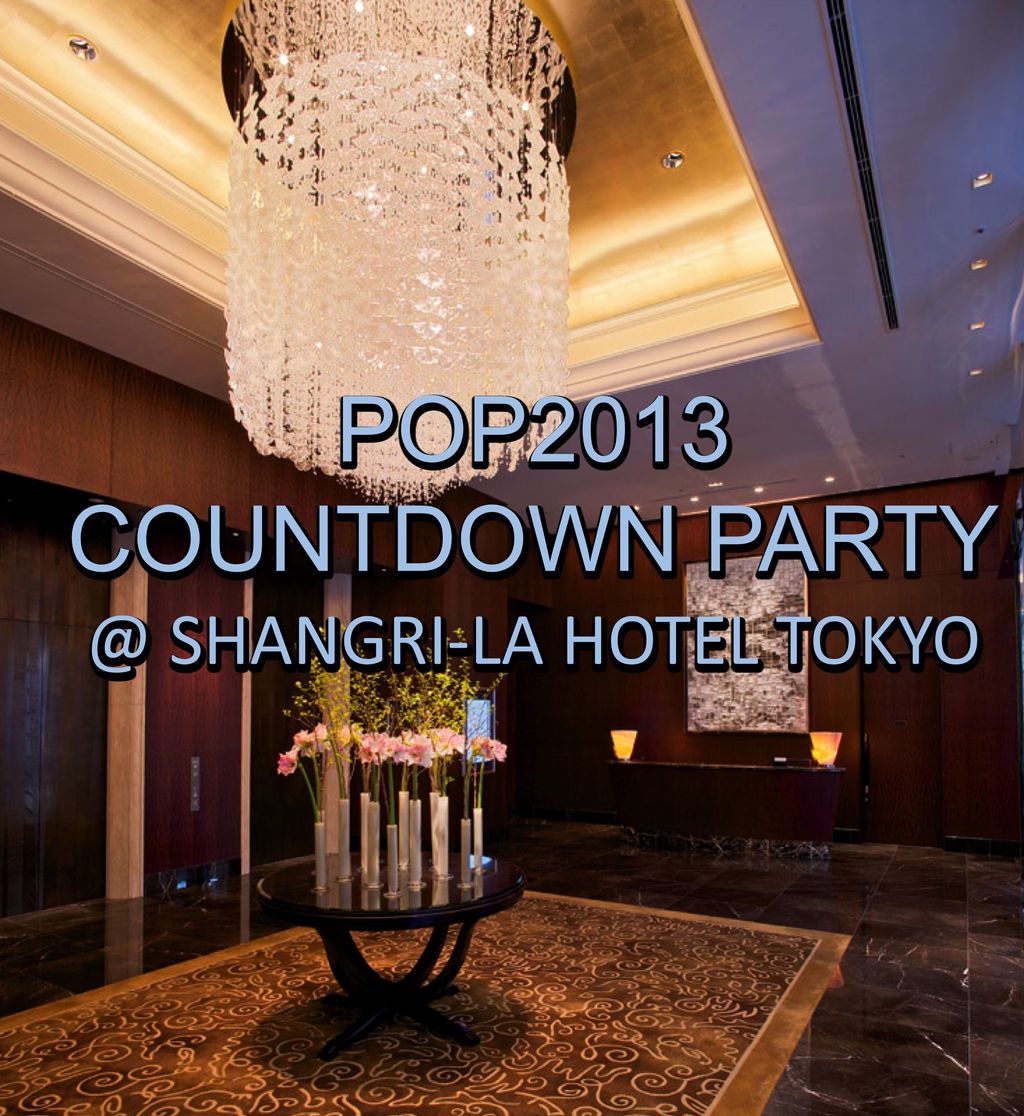 The most exciting and unique countdown party in Tokyo will be held at Shangri-la Hotel, Tokyo, the winner of the world's best luxury hotel award in 2012 (tripadvisor.com).

We have a new year countdown with the sound of Otsuzumi, a hand-held drum used for Noh, classical Japanese music drama dating back in the 14th century.
Yatagarasu Kodotai is a team of Otsuzumi drummers led by Shonosuke Okura, recognized as one of the Japan's Intangible Cultural Treasures. They lead the countdown with their drums.

The special guest artist is Rebeka Brown from Ibiza.
Holding a Guiness World Record for the largest club live audience of 12,000 people, she won the Lifetime Award for the Best Pioneering Live Artist from Deejay Magazine. You don't want to miss her first and powerful appearance in Japan.
Rebeka brings DJ Shanti with her. He is a rising star of SPUN RECORDS and like his brother Riktam of GMS his futuristic sound has big followers around the world.

There is a show by Bugaku, a team of Japan's traditional martial artists and music instrument players. Their stylish and dynamic performance have won numerous praises in Europe. With the sound of DJ Oni, they are joined by Yutaka Kambe, the first champion of All Japan Xtreme Martial Arts Open Competition this year.

Tokyo Girls, a professional dance team led by Yoko Yagishita who was the first Japanese to be a NFL/NBA cheerleader, show NBA style cheerleading performance.

Sophisticated driving simulators originally developed for professional racers are to be set up for anyone keen on competitive driving. Whether it is Suzuka or Monaco you enjoy what it is like to drive at 300 km/hr. The winners of the time attack trial get free chauffeur service to their home or hotel in Tokyo area after the party in AUDI A8 or Q7.

We have 3 DJ stations; Ball Room, Sub-Lounge and Chill-out Lounge. You can roam around freely, picking your favorite sound.

Garrett Popcorn Shops which will open Japan's first shop in Harajuku in a few months provides samples at the party. Come and taste the best popcorn in the world from Chicago.

It is a night of full entertainment in the luxury setting and what else could be a better way to close 2012 and receive 2013?

BALL ROOM
Rebeka Brown; http://rebekabrown.com/
Shanti; http://iflyer.tv/artist/9920/SHANTI/
Morita Masanori; http://www.studioapartment.jp/
Vivid; http://www.thevividexperience.com/index.php
Bugaku; http://www.bugaku.net/
Yutaka Kambe; http://profile.ameba.jp/stellaforce/
Tokyo Girls; http://www.tokyogirls.jp/
DJ Oni; http://jp.myspace.com/djonitokyo
DJ MaRia; http://ameblo.jp/djmaria
Yatagarasu Kodotai
VJ TOWAII; http://www.toowa2.com/

NIGHT SONIC LOUNGE
DJ Bassy; https://www.facebook.com/ciao.bassy
Norichiyo

BRAKOUT LOUNGE
shiba (FreedomSunset); http://iflyer.tv/shiba/
haraguchic (communication!); http://haraguchic.blogspot.jp/
shin a.k.a. pulse wave; http://ameblo.jp/shinkimura/

eXcape Entertainment
https://www.facebook.com/pages/eXcape-Entertainment-Group/162033253857165?filter=1

Garrett Popcorn Shops; https://www.facebook.com/GarrettPopcornJP?fref=ts

Dress Code; Chic & Elegant (no sneakers and jeans)

If you would like to book a table please write to ken@kenkuro.jp




At the door; ¥8,000 (1 drink)




Advance Ticket; ¥6,000 (1 drink)



Advance Pair Ticket; ¥10,000 (2 drinks)




The first 100 guests who arrive with advance tickets will get Shower Gel (¥2,800 at shop) or Hand Cream (¥1,800 at shop) from SABON. One item for one purchase, either single ticket or pair ticket.



Read more
Updates
イベント詳細情報を更新しました。 Diff#4337

2012-12-19 15:08:52
More updates
Dec 31
-
Jan 2, 2013
[ Mon ] - [ Wed ]
9:00 PM
-
5:00 AM
JST
Add to Calendar
Venue

Shangri-la Hotel, Tokyo
Tickets

Advance Ticket (1drink ticket)

SOLD OUT

¥6,000

Advance Pair Ticket (2 drink tickets)

SOLD OUT

¥10,000
Venue Address

1-8-3 Marunouchi, Chiyoda-ku, Tokyo

Japan
Organizer